(Last Updated On: March 11, 2020)
Robotic fishing Lures are electronically programmed swimbait that simulate life-like swimming patterns of real fish which attracts predator fishes. These robotic fishing lures are generally made in such a way that they can swim, stop, and swim again at random intervals while changing directions, often mimicking a fish in distress with its erratic movements and thus attracting bigger game fishes for an easy catch. Most game fishes like bass, trout, walleye can't resist their urges to strike, especially when the robotic lure turns its back and provides opportunities for it to ensnare the fishing bait.
What is the best Robotic Fishing Loop?
Before buying robotic fishing loops these are the two most important features you should look for:
Realistic Looking – The lure must be attractive to the game fish with proper S – type movements.
Sharp Hooks: The robotic lure must have sharp non -rusting strong hooks so that when caught the big bass or trout cannot escape the line.
3 Top Robotic Fishing Lure Available in the Market
TRUSCEND Robotic Fishing Lures for Bass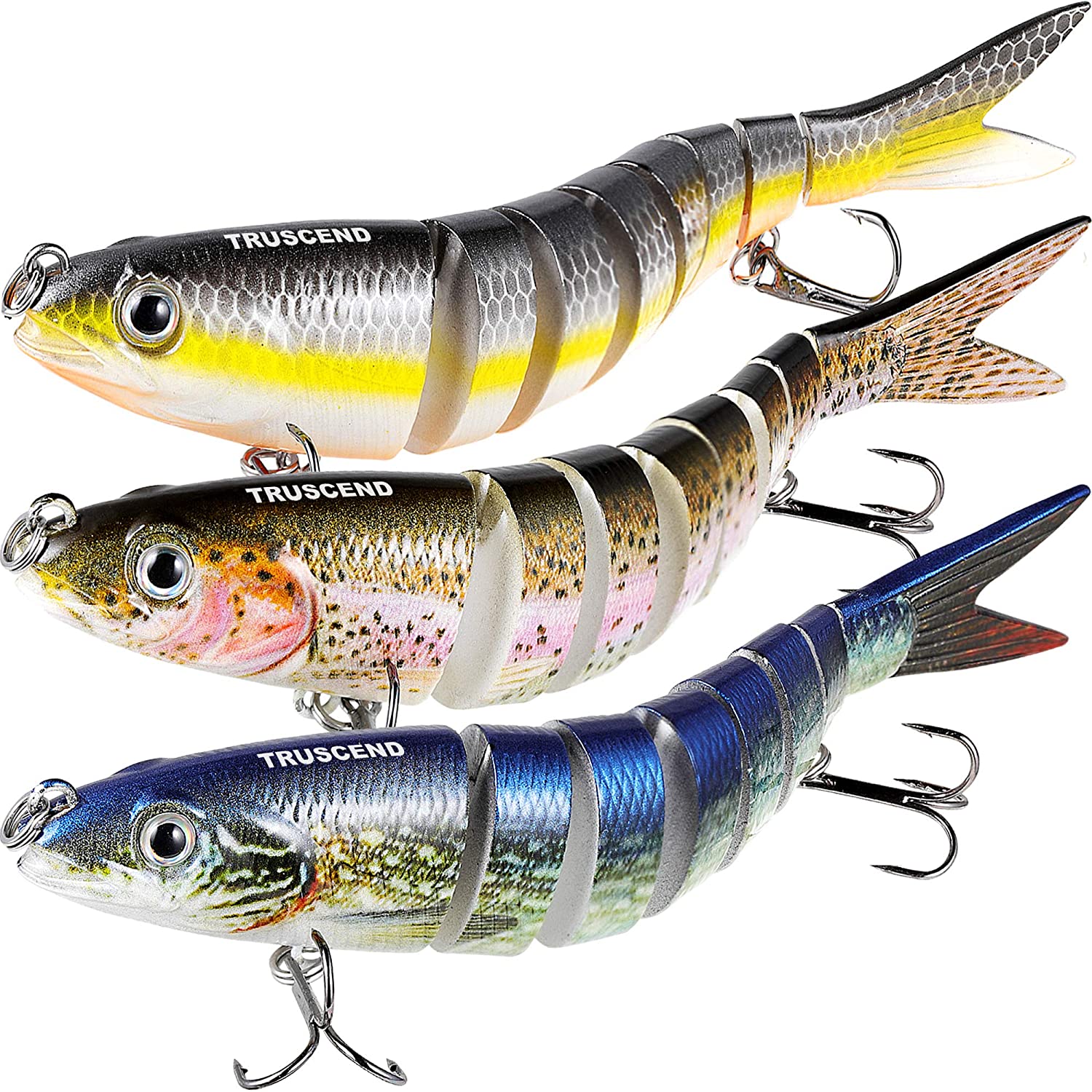 These multi-jointed Swimbaits have eight segmented body which slowly sinks in the lake water. It makes natural S-shaped swimming action at different speeds, making it a prime target for hungry fish.
These lures are constructed with ABS plastic body that is real tough and is additionally supported by ultra-strong mesh woven fabric, which will bring you an ultimate fishing experience.
These lures are suitable for both saltwater and freshwater and are an excellent choice for both new and experienced anglers. To read more about these fishing lures click here.
SHINEFISH Fishing Lures for Game Fishes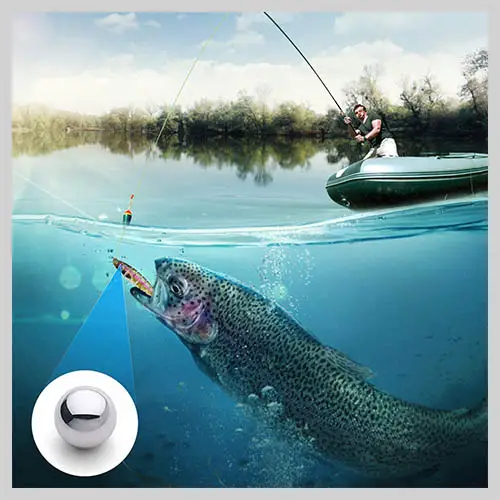 These 6 segmented artificial fishing baits come with 2 treble hooks making it an excellent choice for cut and bait. The realistic S swim motion attracts big fish to attack the lure. These artificial robotic fish lures have a bionic fish body with 3D lifelike eyes and brilliantly colored. Bass and other big fishes are attracted by the way they move and their colors.
The well-built steel ball bait makes it sink naturally in water and also the sonic sound it makes is an additional attracting factor for the game fishes.
This topwater fishing lure is made of high-quality ABS material making it odor frees and reusable swimbait. Click here to read more details about the shinefish fishing lure
Fishing Lures for Bass, Trout, Walleye, Predator Fish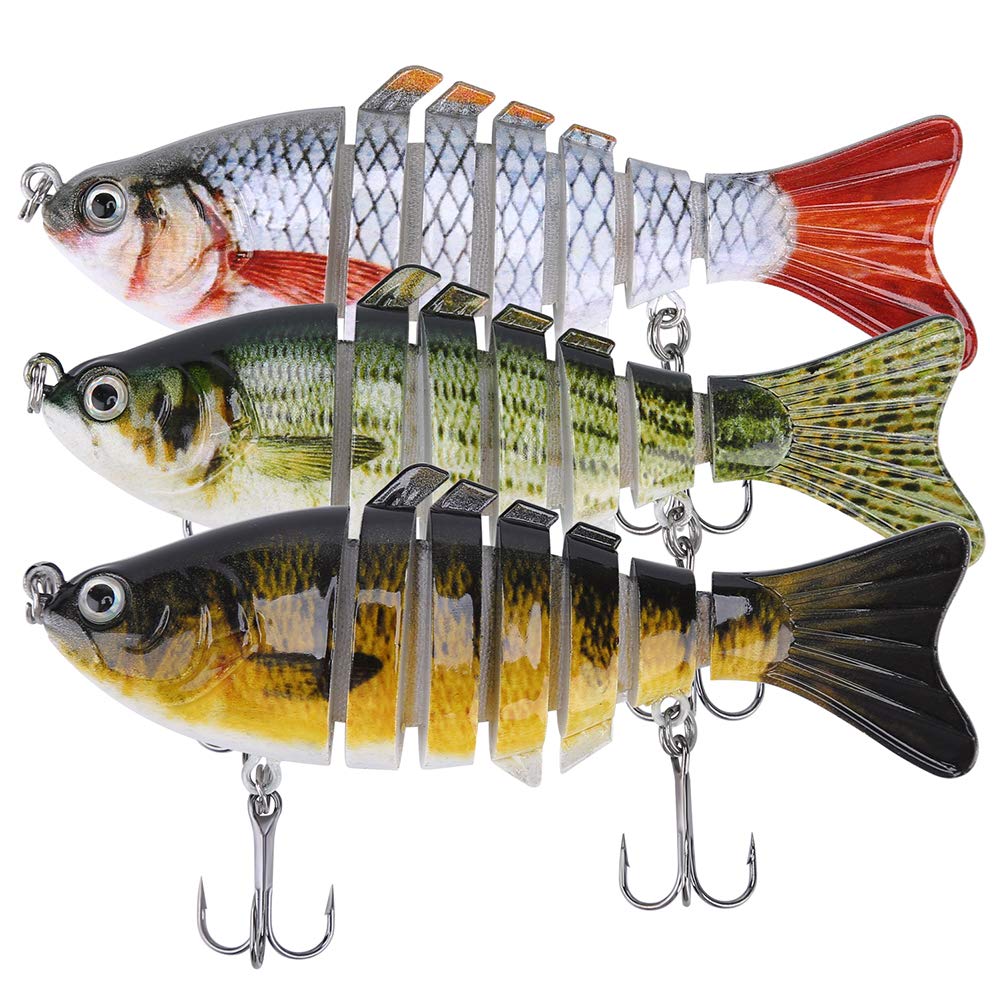 The life like fishing swimmer baits is ideal for targeting any predator fish like bass, trout, walleye, pike, yellow perch, musky, catfish, roach, largemouth, smallmouth and so on. These lures are ideal for professional fishermen but new anglers can make good use of them too.
These swimbaits feature gravity balls that allow the angler to throw the line at a longer distance, thus enabling it to stay further from the fish, making sure that it does not scare away the bass or trout.
The gravity balls make a unique sound that attracts the fish which is already attracted by its real fish like movements. This feature makes the swimbaits even more appealing.
Each of these lures comes with two ultra-durable treble hooks to make sure that once the fish bites, it never escapes. Click here to learn more about this robotic fishing lures
I hope this article has helped you to learn about what are robotic fishing lures, what to look for before buying these artificial swimbaits and three top robotic fishing lures available on Amazon to make an informed decision.
Summary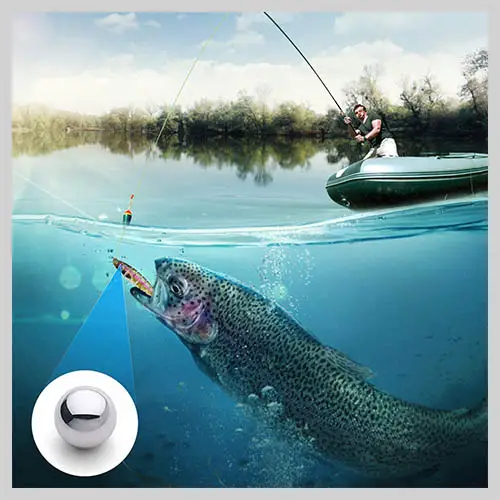 Article Name
What Is Robotic Fishing Lure? And Which Are the Best?
Description
Looking for information on Robotic fishing lure and what are the best choices? Then stop searching and read this quick guide.
Author
Publisher Name
Publisher Logo