(Last Updated On: February 18, 2020)
If you are a parent or teacher looking for the best programmable robot for teenager you don't want a simple solution with a single purpose. You don't just want your child to experience science, technology, engineering, and math (STEM) you want something that integrates all four.
So here are our top recommended Programmable Robot for teenage kids
1) Sphero BOLT: App-Enabled Programmable Robotic Ball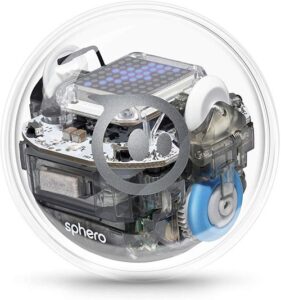 This transparent 3" rolling robot has been designed to teach teenagers and grown-ups how to code using the related Sphero Edu app
What's new in this version of Sphero Bolt is a transparent sphere, crammed full of different types of sensors. In addition it comes with a very bright 8×8 LED display which can be used to show messages, show animations, change colors or respond to input from the on-board sensors. This is a nice feature that was absent in its predecessors. However it does not have speakers, so the sound is handled by the app.
It's working range is about five meters. It can detect luminosity through a light sensor built in it and can know which direction it is going because of the to magnetometer built-in,
Teens or adults with advanced coding knowledge can also use comparators, if/else statements and multiple types of loops to create more complex programs. Even custom functions can be coded to use them across multiple programs.
The app is available for iOS, Android and Amazon devices in addition to a desktop version for PC, Mac, and Chrome. You can read more reviews about this spherical transparent coding robot here and decide whether it is suitable for your teenage child
2) LEGO MINDSTORMS EV3 31313 Robot Kit for Programming and Learning coding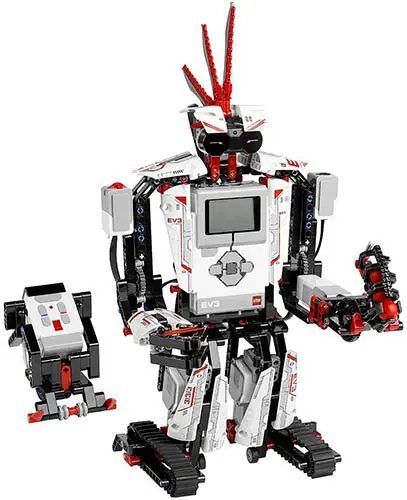 This kit includes Lego-based bricks, a programmable EV3 "brick" that serves as the brain, 4 sensors, a handful of motors, and several more pieces.
The EV3 "brick" consists of a built-in display which shows the wireless connection, battery level and what the robot is currently doing
It can be programmed by using the LEGO Mindstorms Ev3 software for PC. The commands can be downloaded to the robot using a USB cable, Bluetooth, or Wi-Fi.
5 programming "missions" are provided by the software to help your teenage kid start using icon-based programming blocks. Apart from the desktop version, LEGO also provides programming app for mobiles. Check out the current price of this coding robot here.
3) Ultimate Coding and Circuit Kit for Teenagers Includes Sensors, LCD Screen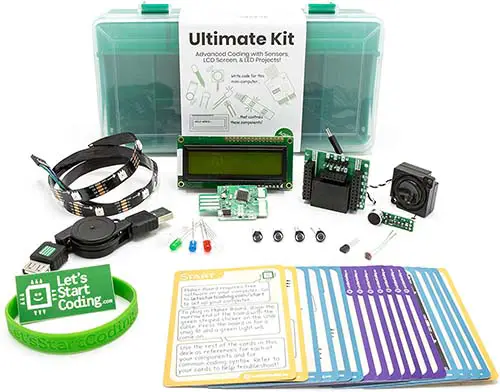 "Let's Start Coding" is a desktop app that aims to teach older kids basics of computer coding.
Other than the software, there are related physical code kits, which look like printed circuit boards shaped like a car, a rocket, or a piano.
The Ultimate Coding and Circuit Kit consists of 14 sequential lessons and 60+ example projects. The kit includes LED flashlight, LED strip thermometer, Four note piano, Night-sensing nightlight, 'Clapper' light switch, Mini 'jump man' video game.
If you really want the budding engineer to get ahead with his or her coding skills, this Ultimate coding Kit is the all-in-one product you're looking for.
Summary
Article Name
Programmable Robot For Teenager
Description
Looking for Programmable robot to gift your teenage child? Read to make your choice from the top 3
Author
Publisher Name
Publisher Logo